Information Management Policy (IM Policy) allows list administrators to define specific policies for content stored within the library. These policies ensure content adherence to corresponding compliance rules that have been defined for the library. This blog will provide you with a rough idea about the Information Management Policy settings in the SharePoint 2010 Document Library.
An IM Policy has the option to define settings for the following items:
Retention – Schedule how content is managed and disposed by specifying a sequence of retention stages.
Auditing – Specify the events that should be audited for documents and items subject to this policy.
Barcodes – Assigns a barcode to each document or item. Optionally, Microsoft Office applications can require users to insert these barcodes into documents.
Labels – Add a label to a document to ensure that important information about the document is included when it is printed.
I. Retention
Retention settings let you schedule how content is managed and disposed by configuring a sequence of retention stages. Each stage that is defined has an associated time period or retention formula that determines when a specific action occurs. The following actions are available for each stage.
Move to Recycle Bin
Permanently delete
Transfer to another location
Start a workflow
Skip to next stage
Declare record
Delete Previous drafts
Delete all previous versions
Multiple stages can be defined for each policy, with each stage specifying a different time period. Each stage will occur only once unless, Recurrence is enabled, upon which that action will recur forever until the next stage is triggered. When records management is enabled within the site, separate retention schedules can be configured for each record and non-record content. Figure 1 shows the setup options for each stage as they appear within the Stage Properties dialogue box.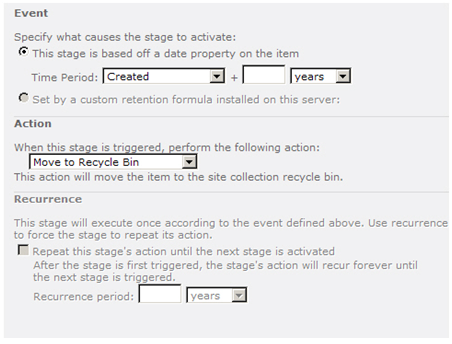 II.Auditing
Auditing settings specify what events trigger audits for documents and items subject to the IM policy. When the specified event occurs, an entry is written to the audit log for the site. This log can then be reviewed at a later time by administrators. IM Policies allow for the following audit events to be logged.
Opening or downloading documents, viewing items in lists, or viewing item properties
Editing items
Checking out or checking in items
Moving or copying items to another location in the site
Deleting or restoring items
III.Barcodes
Barcodes are supported within SharePoint 2010 at the document level. By enabling barcodes with an IM Policy, users are able to associate a barcode with all documents subject to that policy. Optionally, you also may select to prompt users to insert a barcode before saving or printing a document.
IV.Labels
Labels provide a way for you to ensure that important information about a document is included when it is printed. To specify a label, type the text you want to use in the label format box. You can use any combination of fixed text or document properties, except calculated or build-in properties such as GUID or Created By. To start a new line in the label format field, use the \n character sequence. You also have the ability to enforce font and style formatting for the label text, as well as the ability to prevent changes to labels after they are added.