Before one decides if they should deploy SharePoint, it would be nice to see what options you have in terms of version and some basic costs. For most people monetary cost is a large factor in deploying SharePoint. In fact it could be the deal breaker when deciding whether to purchase and deploy SharePoint. Although SharePoint 2013 Standard and Enterprise can still be prohibitively expensive, from a software, licensing and hardware standpoint; SharePoint Online can be a more palatable alternative on the climb up to hosting SharePoint on your own servers and SharePoint Foundation a cheaper basic version when one has their own servers. Below I have recreated the chart from Microsoft's website and other sites (see resource list below).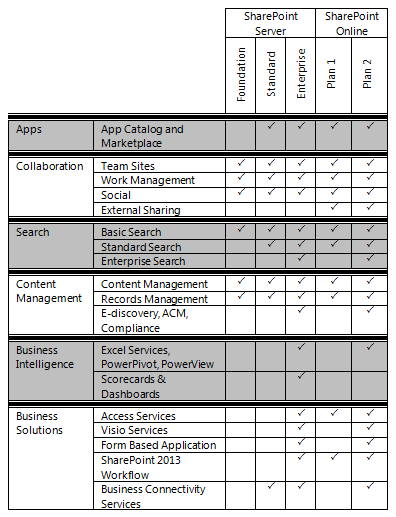 I have not include the cost of the different versions of standalone SharePoint as there are a number of factors that can raise or lower the price of SharePoint. Instead, I suggest you visit Microsoft License Advisor to get a quote for the configuration of the SharePoint you want to set up. For SharePoint Online, Plan 1 costs $3 (US)/month/user and Plan 2 costs $7 (US)/month/user.
Resources:
http://office.microsoft.com/en-us/sharepoint/collaboration-tools-compare-sharepoint-plans-FX103789400.aspx
http://www.khamis.net/blog/Lists/Posts/Post.aspx?List=6c8a23d1-47ea-47e5-b56f-2bc57cb95b93&ID=96&Web=d64cd8b3-a3f4-40d8-8d93-6aa6dc82fcda
http://blog.blksthl.com/2013/01/14/sharepoint-2013-feature-comparison-chart-all-editions/
http://blog.sharepointedutech.com/2013/01/06/sharepoint-2013-version-comparison-chart/
http://www.scribd.com/doc/130865150/SharePoint-2013-Comparison-Chart
http://office.microsoft.com/en-us/sharepoint/sharepoint-products-and-free-trial-online-collaboration-tools-FX103789417.aspx?WT%2Eintid1=ODC_ENUS_FX103479517_XT103977432&WT%2Eintid2=ODC_ENUS_FX103789323_XT103977432
Please email us if you have any comments or questions: inquiry@boostsolutions.com.