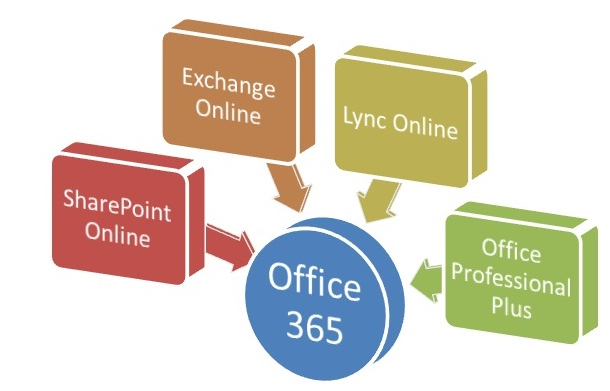 Office 365 is about mobility; it's about maximization of your time; and it's about being where you are all the time. With Office 365 you get some of the following great products to keep you connected and efficient: Microsoft Office; email and calendars; website; office web apps; file sharing and managing projects, instant messaging, presence, and conferencing; mobility; and security and trust.
Let us take a closer look at some of key features found in Office 365. One of the key drawbacks to placing everything in cloud is security. With Office 365 comes the built in security features and peace of mind. Office 365 applications are accessed through a 128-bit SSL/TSL encryption that ensures the safety of your documents and should someone try to intercept your work, they will not be able to read it. All antivirus signatures are up to date so you don't have to worry about infestations in your work. Microsoft is dedicated to security and keeping your data secure (check this website for whitepapers on security in office 365).
The second thing that has many people worried about cloud is its reliability. With downtime and unavailability it would prove disastrous with lost productivity and ultimately result in higher cost for companies due to lost time. With Microsoft's service level agreement (SLA) means that there is a 99.9 percent scheduled uptime and guarantees no lost service. With multiple datacenters located around the world there is virtually no downtime as data from the customers host datacenter can be transferred to another, with little disruption in service.
Keeping up to date with the latest software can quickly become an expensive venture. Not with Office 365 which gives you the latest software so you can enjoy all the features and functionality of the latest versions of Microsoft's server products. Compatibility is also a non-issue as Microsoft not only supports Windows 7, but also Vista SP2 and Windows XP SP3. As it is hosted online, you don't have to be only a PC user; Mac users also have full access to Office 365 using OS X 10.5 or 10.6.
For users of SharePoint, Office 365 is a great way for you to collaborate. There are some great benefits to having SharePoint online such as: You can share personal documents and information by creating your own personal Site to share and manage your documents online and the advantage of always being able to access the latest version; Keeping your team in sync and manage important projects through "Team Sites", giving your team an arena to work together on documents, critical tasks, and events; Keep everyone up to date on your companies latest news and information through "Intranet Sites" where you can easily find important documents and people, participate in discussions and forums, and access routine business processes; and market your business with a simple to use but professional public website with SharePoint Online that keeps small businesses and professionals in mind and making websites easy to set-up and maintain so you can continue focussing on marketing your business.
With all these great features, excellent security and anti-virus protection, the ability to stay up to date with minimal cost, and outstanding support and service there is no question that you and or your company should not jump on board. So what are you waiting for?