When you use a document library to store and manage documents (like Word, Excel, PowerPoint files and more) on SharePoint. You may concern one issue, how to ensure the document security and prevent unauthorized editing. You may need to convert the documents to PDF.
You can open each document and save as PDF format in document library, or programmatically convert them to PDF using codes.
There is another way to convert document to PDF by using a third-part product, BoostSolutions PDF Converter. Using this product, you just need to click on the check box next to a document name and convert the documents to pdf.

With PDF Converter, these file types can be converted to PDF, DOC, DOCX, XLS, XLSX, PPT, PPTX, PSD, TIFF, JPG, JPEG, PNG, PDF, MSG, VSDX, VSD. Even better,  you can convert these files to TIFF format.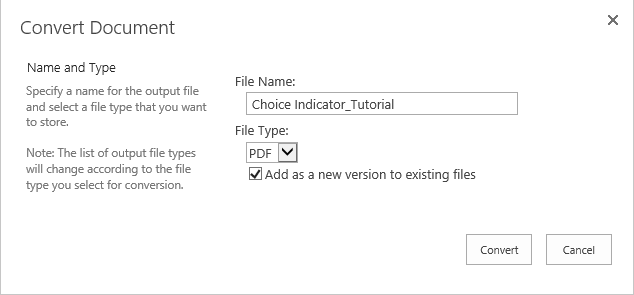 Combining multiple documents or files to one PDF file is another common requirement, and you can make it using PDF Converter easily.
First step, select documents or files and click Combine Documents command on ribbon.
And then specify the document order in PDF file, click Up or Down button to change the order.
PDF Converter provides two features to enable you to easily share the PDF files, Send as PDF and Download as PDF.
You can send the converted PDF file as attachment in the email to other people. Or download the converted PDF file to your computer.
Learn more features of PDF Converter, please visit http://www.boostsolutions.com/sharepoint-pdf-converter.html.