Although the internet is rife with information, tips and tricks, solutions and other useful material on SharePoint, sometimes it is generally easier to have some publications around for quick reference. Listed here are some useful publications that will make your SharePoint life easier. These publications are fairly recent releases for SharePoint 2013 and may be either newly written or updates of SharePoint 2010 references. In this article we will look at two publishers, WROX and McGraw-Hill.
First let's take a look at a few publications from WROX.

Shane Young, Steve Caravajal, Todd Klindt
ISBN: 978-1-118-49581-0
April 2013
This newly published book will help you understand new features that you will find in SharePoint 2013. It goes into further detail, presenting you with a clear view of how SharePoint 2013 will affect the role of the administrator. The publisher lists the following items that you will find in this book.
Compares and contrasts SharePoint 2013 to earlier versions

Helps make your SharePoint 2013 installation smooth and successful

Addresses managing customizations

Looks at SharePoint 2013 for Internet sites

Includes an introduction to SQL Server 2012

Amanda Perran, Shane Perran, Jennifer Mason, Laura Rogers
ISBN: 978-1-118-49589-6
February 2013
This is the third edition of this book and is re-written to contain the latest SharePoint version information. This publication contains real-world scenarios and helps you to understand information management problems and how to successfully and efficiently overcome challenges. According to the publisher this book contains the following:
Examines product functionality alongside realistic scenarios to provide you with contextual relevance

Addresses managing permissions, reporting in SharePoint, and working with access services

Offers updated content on working with lists, libraries, workflow, content types, and web parts

Reviews social features, forms management, business connectivity services, and more
This publisher also carries books on SharePoint 2007 and 2010 for those who have not yet migrated to the newest version.
Next, here are some publications from McGraw-Hill. This publisher carries similarly titled books for SharePoint 2010 and SharePoint 2013 that will help you get a basic understanding of whichever SharePoint version you are using.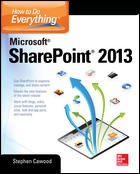 Stephen Cawood
ISBN: 007180983X / 9780071809832
March 21, 2013
This book has been re-written to contain information on the latest release of SharePoint. This publication uses real-world examples to understand how you too can explore the possibilities of using SharePoint 2013. Here is the table of content for this book.
Chapter 1. Introduction and SharePoint UI
Chapter 2. SharePoint Concepts
Chapter 3. Working with Documents
Chapter 4. Collaboration
Chapter 5. Social tagging and Taxonomy
Chapter 6. Publishing
Chapter 7. MySites and Personalization
Chapter 8. Web Parts
Chapter 9. Customization
Chapter 10. Using SharePoint from Client Applications
Chapter 11. Introduction to SharePoint Administration
Chapter 12. Introduction to SharePoint Development
Chapter 13. Template Reference
Appendix A – SharePoint Training Resources
Appendix B – SharePoint Best Practice Resources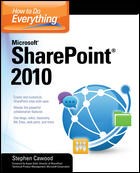 Stephen Cawood
ISBN: 0071743677 / 9780071743679
July 26, 2010
This formerly released publication helps you to understand and use SharePoint 2010. In this publication you learn how to use document management functions, wikis, taxonomy, and so on. Here is the table of content for this book.
Chapter 1. Introduction and SharePoint History
Chapter 2. SharePoint Concepts
Chapter 3. Working With Documents
Chapter 4. Collaboration
Chapter 5. Tagging and Taxonomy
Chapter 6. Publishing Sites
Chapter 7. My Sites and Personalization
Chapter 8. Web Parts
Chapter 9. Customization
Chapter 10. Using SharePoint with Client Applications
Chapter 11.Template Reference for Libraries, Lists, Pages, and Sites