Here are some upcoming SharePoint events that will be taking place for the rest of the year. You will find these events useful to help you harness the full potential of SharePoint; a place to discuss problems, possibilities and solutions for your SharePoint environment.

September
SPS Columbus – September 14
SPS New Hampshire – September 21
SPS Redmond – September 21
SPS Omaha – September 28
October
SPS Abu Dhabi – October 5
SPS Michigan – October 5
SPS Sydney – October 19
November
SPS Rhode Island – November 9
SPS UK – November 9
December
SPS DC – December 7
SPS Lahore – December 14

Donald E. Stephens Convention Center
Chicago, Illinois
October 7 to 9, 2013
For those who are not able to make the first SharePoint Fest to be held in Washington in August, you have a second opportunity with SharePoint Fest – Chicago. SharePoint Fest – Chicago, also a 3 day event, will host a range of technical classes and seminars that will be taught by Microsoft Certified Trainers, Microsoft engineers and Microsoft MVPs. At SharePoint Fest – Chicago there is something for everyone from SharePoint Administrators, software developers, information architects and knowledge workers. You can choose from a variety of topics to mix & match based on your needs or choose from one of 10 learning tracks.

IT/Dev connections is a well-known independent conference that is not just about SharePoint, but about everything Microsoft including Exchange, Windows 8, Windows Server, SharePoint and SQL Server. This year's conference will include HTML5, ASP.NET, Exchange, SQL Server, Windows, Windows Server, Visual Studio, Windows Azure, SharePoint, Cloud and Office 365. You will not only hear from well-known experts, but you will also get a chance to interact and network with your peers both in formal and in-formal settings.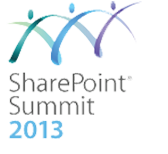 The Fairmount Hotel
Vancouver, British Columbia
October 28 to 29, 2013
SharePoint Summit, a premier and important event for Canadian markets, marks not only its seventh year but also the release of SharePoint 2013 and the first time SharePoint Summit will be held in Vancouver. SharePoint Summit – Vancouver will host more than 60 sessions lead by more than 40 speakers. This conference, like the one in Quebec and Toronto, will also feature a Partner's Expo where you can network and learn more about SharePoint solutions, products and services.

Crown Promenade
Melbourne, Australia
November 18 to 20, 2013
Share – Australia, the SharePoint conference for business users, is a three day gathering of learning, networking and sharing. This conference is not just about experts but about businesses that use SharePoint every day giving you non-technical information you will not get anywhere else. Share – Australia focus is not just SharePoint but about business outcomes and results when you use SharePoint. Share – Australia also gives you the opportunity to network with Microsoft SharePoint Partners.

Meervaart Theatre
Amsterdam, Netherlands
November 19 to 20, 2013
SharePoint Connections is a conference for SharePoint Developers, Infrastructure Specialists, Architects, IT Managers and Business and Power users. This year's conference will feature topics on search, workflow, Office 365 Hybrid, upgrading to SharePoint 2013, architecture best practices, social, apps and branding. New for this year will be a full day workshop that will occur the day after the conference and will allow for more in-depth topics. A social evening is also part of the conference where you can relax and network with your peers, speakers and solution providers.
Please email us if you have any comments or questions: inquiry@boostsolutions.com.