About one month ago, Microsoft launched a new product Office 365. Cloud computing is definitely the hottest issue in these years. Lots of people believe in it is the future of the Software industry. And Office 365 is another convincing proof of this theory.
In a company, there are a lot of people working together to make something happened, we call it "Collaboration". And for a better collaboration, we need a lot of tools, like Microsoft Office, Exchange, Instant Messaging, or even a SharePoint. Well, maybe I cannot say an exactly number how much these products cost, but I am it is far away from what a startup businesses can afford. And that is why the Office 365 is here to help, my friend.
So what Office 365 really is Basically, it is your IT department and the required software products you need, well maybe just part of them for now. But it will be sooner or later, we will see. OK, let's check it out, what kinds of functionality Office 365 can provide:
Exchange online
Office Web Apps( including Word, Excel, PowerPoint, OneNote)
Lync(IM)
Websites
SharePoint Online
With Exchange, you can get the email service and calendar service, make an appointment, arrange a meeting, etc. It is the most required tool when you are in a business. And the deployment of the Exchange Server is a very professional skill, no mention the maintenance of the hardware. With Exchange Online, all these mess would have nothing to do with you. How is that?
For the Office Web Apps, I was really impressed by its compatibility with Office. It can do almost everything that I would usually use. And the most important is that it can bring you a storehouse of the documents with SharePoint Online. With SharePoint Online, you can manage your documents, you can use workflow, etc. Via SharePoint, the collaboration will be more effective and easier. Following by some pictures used to compare the interface of the Excel from Office online with Office 2007.
here is the one from Office 2007: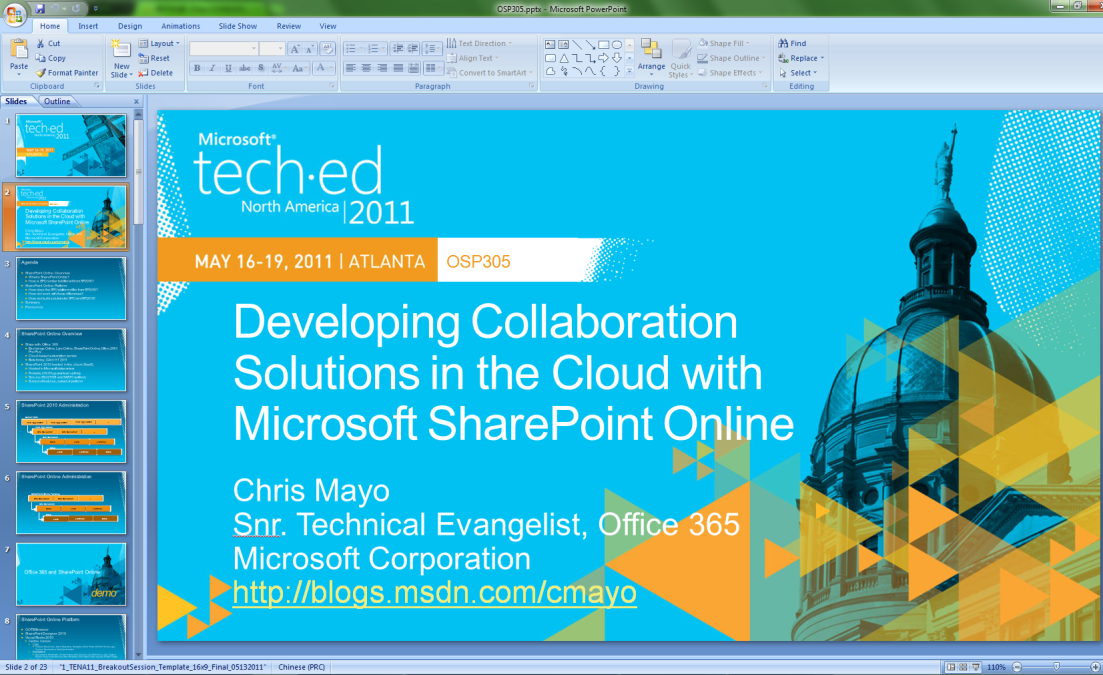 There is also a IM Tool called Lync. But actually it's not just a normal IM tool, it is a tool for collaboration, and in a very real-time way. A typical case is when you have a online meeting with you teammates , you can do a PowerPoint presentation at the same time. And more than that, there is also another very interesting and useful functionality in Lync is a "Whiteboard", all the members of the meeting can draw anything they want on the whiteboard. So Lync is really not just about sending text/voice/video message. Ok, here are two pictures of what I am talking about:
It's very cool, don't you think? And with Office 365, all you have to do is install a client application of Lync.
All the business need a place to tell people who they are, what they can do and what they are doing now, so a public website is definitely required. With Office 365, you can get a simple website which you can design on the browser directly as you want. There are a lot of themes is available in the box, they are categorized by the industry like Accounting, Real Estate or Lawn and Garden. For now I don't know how customized it can be, I will do more research on this issue in the feature. Here is a screenshot of website editing.
Above is very basic overview of the functionality in Office 365. All I mentioned is the functional part, but none-functional part is always the matter. Now let's see what kind of service besides the functional functionality the Office 365 can bring us:
Reliability
Performance
Extensibility
Security
Lower your cost
Accessibility
It's really easy to understand the first five points, it's actually the benefit that all the Cloud Computing technology can bring us. But the Accessibility, I think, is the key of why you should consider Microsoft's Office 365 more than other products, like Google's( there is a post talked about these two products, you can take a look here: http://www.pcworld.com/businesscenter/article/231294/office_365_vs_google_docs_showdown_feature_by_feature.html). A very attractive feature you can find almost in every video about Office 365 is that how closely it can work with a windows phone 7 mobile device. With a cellophane, you can access your business material any time anywhere(well, at least you need an access to internet actually), even when you on a trip. More than that, it is not just the Window Phone 7. I have found some applications on Apple's App Store which is designed for SharePoint, most of them provide the support of the Office 365. So with Office 365, it make collaboration happens all around the world.