It happens sometimes that when we were try to change the user's password by password change right after the product installed, there is always the error message like this: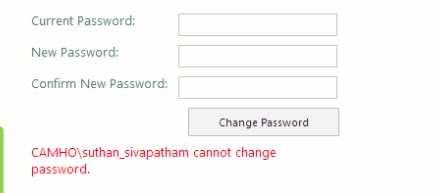 The first idea that pops out in our head is there is something wrong with this product, but in most case it's caused by the password policy.
In a nutshell, you can not change the password, which is because of you set the password policy minimum day for changing this user's password. If the length of days after you created the user in AD is less than the minimum day you set, Sharepoint makes it not be possible for you to change password.
Here is where you can find out the settings of password policy:

If the user is just created, I'm afraid that you'll have to set it "1 days", and go get a great sleep and make a test that if you can change the password for the user at the next day.