SharePoint Collection Column provides an easy way to display one item and its related items or sub items in one page. Without modifying the item form in SharePoint designer, the related or sub items can be displayed in a table.
Using Collection Column, users can easily bulk add, edit and delete related items in the current list without going to source list. And the total and calculation features of Collection Column enables users to easily aggregate and organize data based on the business needs.
The following case will introduce how to use Collection Column.
There are two lists in SharePoint, Purchase order list and Equipment list.
Purchase order list contains order details, includes Purchase Order, Status, Purchase Date, Purchaser, Total Amount and Equipment.

And Equipment list records equipment details, includes Number, Equipment, Model, Brand and Price.

There is a relationship between Purchase order list and equipment list, that each order has equipment details (includes these fields, Number, Equipment, Model and Price) associated with it in the Purchase order list, and the Total Amount is the sum of equipment cost.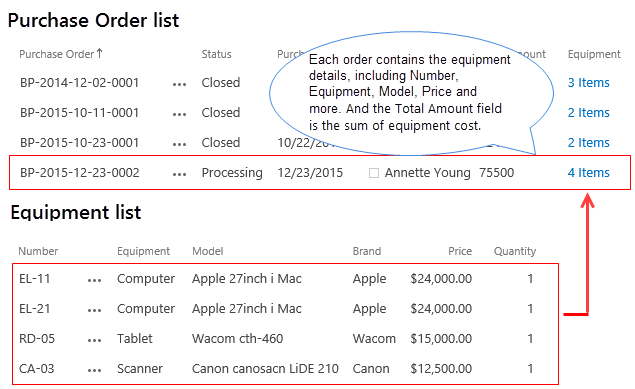 In the Purchase order list, create a column named Equipment, and configure Equipment list as the source list. And then configure the settings as following: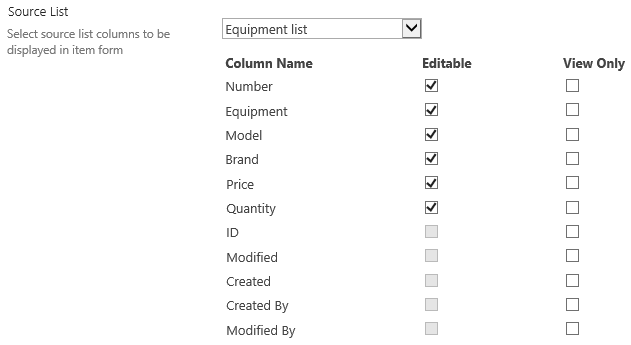 In Calculated column section, type the formula which is used to compute cost of each equipment.

In Total Settings section, select Line Total (this field is defined in Calculated Column section) and choose Sum in Total Type. And in Save Total to Current List group, select Total Amount column.

Go to the Purchase order list after configurations finished, and create an order. And you can fill in the associated equipment details like Number, Equipment, Model, Brand, Price and Quantity in Equipment field.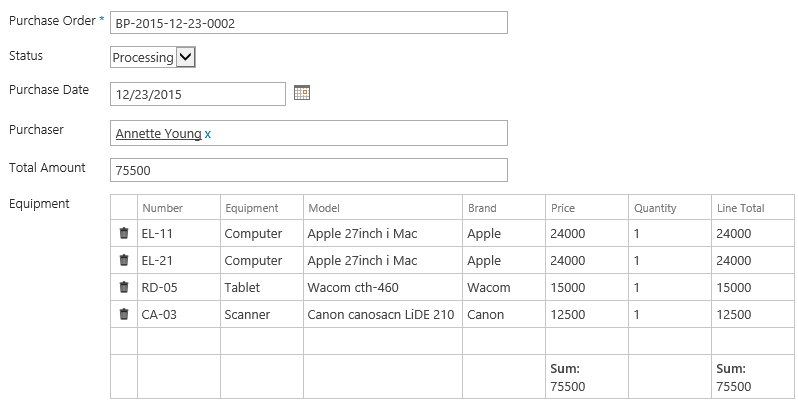 And do not worry, each item in the Equipment field will be stored to the Equipment list.